Pricing healthcare and medical technology requires a new approch
Value-based pricing has always been a controversial approach in pricing healthcare as the value of the positive outcomes are difficult to quantify objectively and ethically. Today, technology is reshaping the landscape of how healthcare and medical technologies are acquired, implemented and utilized both for healthcare delivery and for patient outcomes. As factors such as telehealth, personalized medicine, health services, and social determinants of health become integrated into the patient experience, a new approach to pricing in healthcare is required. The patient experience workflows, products and services that result from the integration of various data types can vary significantly across care types even when the data comes from the same patient and care is delivered through the same infrastructure. Here at Pricing Innovations, we have built an amazing team of medical professionals and healthcare practitioners who are solving the healthcare monetization puzzle everyday. Let's get a conversation started and explore the innovative ways in which you can create better outcomes both for the patients and the healthcare ecosystem.
How does the Healthcare Pricing Canvas™ work?
You can use the Healthcare Pricing Canvas™ to align your pricing structure, pricing model, and pricing window with how care delivery and outcomes are consumed. You can focus on each application of data and services separately, and align your revenue model with how your patients benefit from your offering.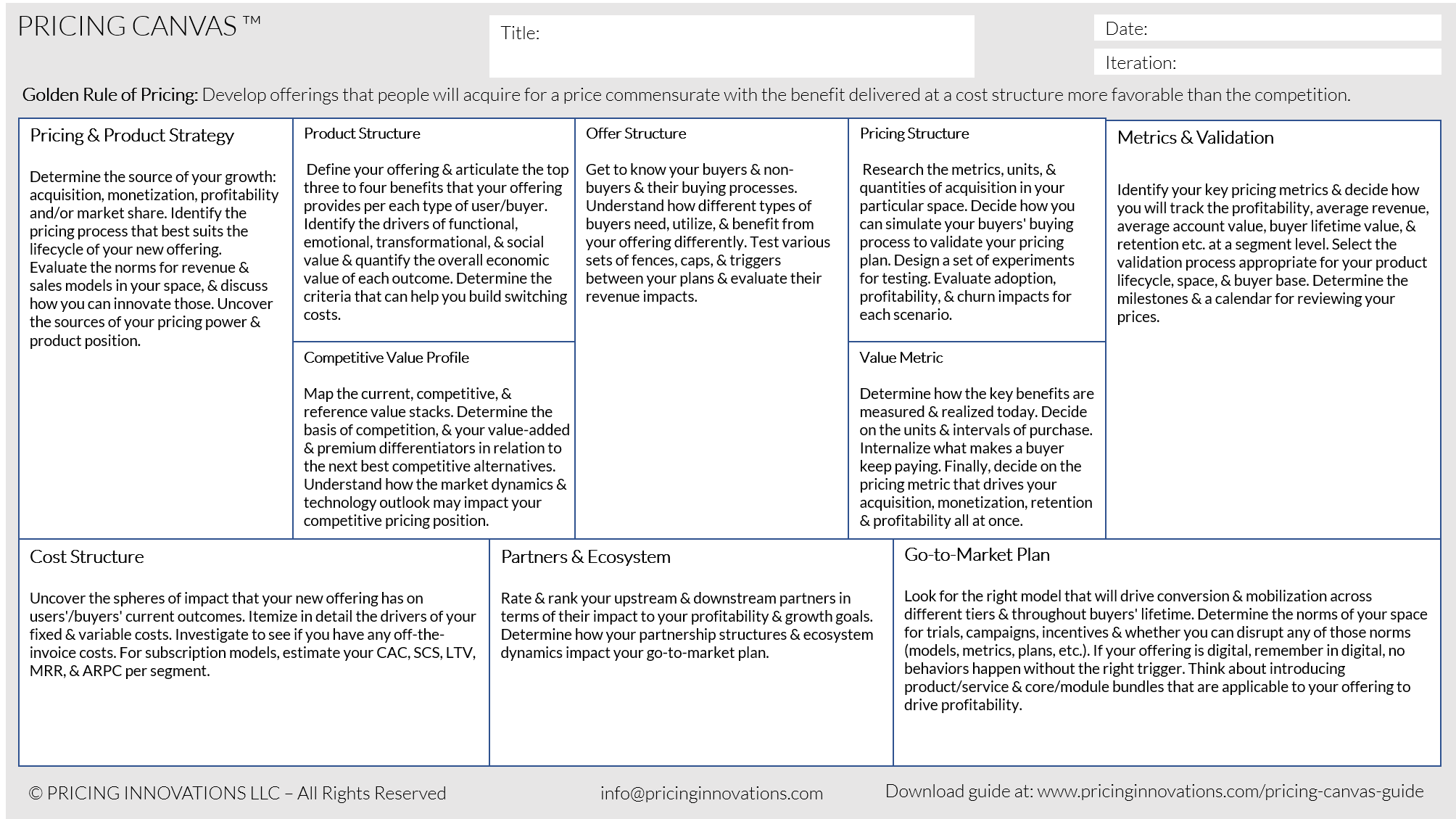 "We found the pricing canvas workshop eye-opening! It completely changed our understanding of how pricing should be created and controlled using process and data. Can't recommend enough!"
Pricing is multi-disciplinary. Get your product, marketing, sales, and finance team together.
Set aside at least half a day. Collect the relevant data and validate your inputs.Get together for another half day.
First identify a specific growth path. Then create the pricing and monetization strategy to execute that growth.
How to make best of the Pricing Canvas™?
Copyright © 2018 All Rights Reserved by Pricing Innovations LLC
Request a Pricing Canvas™ Workshop
We're here to help every step of the way. Schedule a free discovery call and tell us about your space. We will create a pricing canvas workshop that's specific to your space and goals, and design your pricing strategy with you.